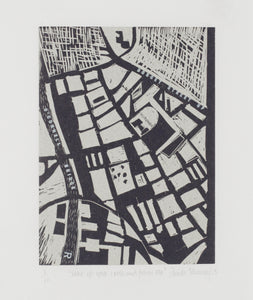 Take up your cross and follow me
Regular price
€100,00
€0,00
Unit price
per
Tax included.
Linocut / letterpress
27 x 23cm
2/10
Strumpet City Project 2013 Graphic Gallery themed their exhibition around the idea of Dublin City past and present to tie in with the nomination of the novel "Strumpet City" by James Plunkett as the One City One Book for 2013.
This print is a map based on a location in the north inner city where a lot of the narrative in the book takes place and where the hospitals, prisons and asylums were then situated.